Beauty & Self
Books & Music
Career
Computers
Education
Family
Food & Wine
Health & Fitness
Hobbies & Crafts
Home & Garden
Money
News & Politics
Relationships
Religion & Spirituality
Sports
Travel & Culture
TV & Movies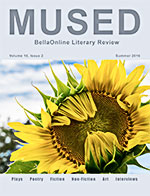 For many people, summertime is the perfect time to explore creativity. Plein air artists bring easels to gardens and beaches, showcasing nature's colors in oils, acrylics, and watercolors. Photographers ferret out a million sights to immortalize. Poets and writers stretch languidly beneath a shady oak tree, listening to the gentle buzz of insects, and constructing entire worlds out of the ether.

Enjoy the creativity of our community of artists - and then explore your own! We'd love to see your works for upcoming issues!

Summer Solstice 2016 issue of Mused

Drag and Drop Widget at Bookry.com
Flash and Animation - Diane Cipollo, Editor

In this Bookry for iBooks Author tutorial, we will create the Drag and Drop widdget at Bookry.com. This widget is a fun game with drag and drop images, which can be customized for just about any type of book created in iBooks Author.




Digital Book Series Project Graphics
Digital Art and Design - Diane Cipollo, Editor

In this tutorial, we will discuss the graphics and other planning for a marketing campaign for the Children's Storybook Template Series of books released to support the Children's Storybook Template for use in iBooks Author.




Coffee and asthma
Allergies and Colds - Sheree Welshimer, Editor

A cup of joe may help ease symptoms of allergy or exercise-induced asthma




The Ultimate Cheat Sheet On Recycling
Body Care - BB Lee, Editor

Keep the planet green by recycling.




Milk and IVF Success
Infertility - Hannah Calef, Editor

Regular milk consumption has been linked with increased IVF success




Chakra Balancing Using Crystals
New Age - Deanna Leigh Joseph, Editor

If you are interested in clearing your chakras, and you have a strong affinity for working with crystals, you may want to try this simple technique for clearing your chakras using some of your favorite crystals.


| Google+ |
E D I T O R R E C O M M E N D E D
Patient Whiz app for iOS


Track your blood pressure, cholesterol, diet, exercise, EKGs, lab results, and much more! Scan, e-mail, record, and print vital health information. Slash your medical bills. Expedite your diagnoses. Doctor-recommended.
Paradise in Plain Sight


Paradise in Plain Sight: Lessons from a Zen Garden by Zen Priest Karen Maezen Miller, is both memoir and Zen guide. Maezen Miller shares experiences repairing and tending a historical Japanese garden in her own backyard, guiding the reader towards direct insight. It is beautifully written, honest, and relevant to the modern seeker of any faith.
Turn On Your Inner Light by Debbie Mandel


This entertaining book offers easy to implement stress-management tools for 29 common life situations: techniques, visualizations and a fitness workout to get you off the couch. Take back your power and live more energetically. Don't vent - reinvent!