Beauty & Self
Books & Music
Career
Computers
Education
Family
Food & Wine
Health & Fitness
Hobbies & Crafts
Home & Garden
Money
News & Politics
Relationships
Religion & Spirituality
Sports
Travel & Culture
TV & Movies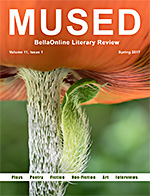 In our modern world of 24-hour diners and around-the-clock email, it sometimes seems as if we've lost track of nature's cycles. But then the Spring Equinox comes along and reminds us to pause. For thousands of years, cultures around the world have recognized this one special day as representing a balance of light and dark. It's a unique moment in time where our world settles in equilibrium – just for a breath. And then the sunlight shines out and pulls us deeper into Spring.

Enjoy the Mused Spring Equinox 2017 Issue



Incoming! – Planetarium Show
Astronomy - Mona Evans, Editor

What devastated the dinosaurs, excavated an great hole in the ground, and broke windows in Russia? What produced the life we know on Earth, but could also destroy it? The answer: impacts from space. It's the subject of the planetarium presentation "Incoming!".




Janu Sirsasana
Yoga - Korie Beth Brown, Editor

This pose is deceptively simple. Be careful and pay attention to your form so that you don't injure yourself.




Woolly Wormhead, Independent Designer
Knitting - Korie Beth Brown, Ph.D., Editor

Knitting is a worldwide passion, and European traveler, knitwear designer, and free spirit Wooly Wormhead has made the world her home. Fortunately for those of us living in one place, her website enables us to purchase her unique patterns over the Internet!




17 Mile Drive
California - Korie Beth Brown, Ph.D. , Editor

If possible, borrow, rent, or buy a convertible for the drive – it may be cold, but the weather is part of the experience! If that's not possible, roll the windows down and let the Central Coast air perfume your drive.




12 Must-Pack Necessities For Your Alaska Cruise
Cruises - Nancy Schretter, Editor

Packing for an Alaska cruise can be difficult. Alaska's weather is highly changeable, so it's important to be prepared. You'll want to bring the right camera equipment and gear to get the most out of your experience as well. Here are twelve must-bring items to pack for your Alaska cruise.




Is Your Skin Beach Ready Ethnic Beauties?
Ethnic Beauty - Juliette Samuel, Editor

Finally, it's time to go to the beach. Is your skin beach ready? Not yet? Here's a body scrub recipe to help you along.


| Google+ |
E D I T O R R E C O M M E N D E D
True Balance by Sonia Choquette


This terrific guide gives you fun, everyday ideas with which to open and strengthen all seven of your chakra energy-centers, including the third-eye chakra and crown chakra which help you to connect with psychic phenomena and the divine.
Eagle One is 2nd to None!


Everyone should have the basics to keep their rides shiny and road ready. The only way to do it is with Eagle One all day long!
Phoenix Rising


"No Eyes", a very wise, very insightful Shaman Indian takes Mary Summer Rain on a rare journey into the future where warnings of upheavals and challenges are gently yet thoroughly revealed out of love and preservation for her beloved Mother Earth.