Beauty & Self
Books & Music
Career
Computers
Education
Family
Food & Wine
Health & Fitness
Hobbies & Crafts
Home & Garden
Money
News & Politics
Relationships
Religion & Spirituality
Sports
Travel & Culture
TV & Movies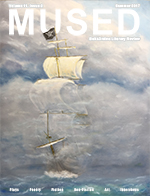 Our time on this Earth is fleeting and precious. We often know that in a vague, intellectual sense, and yet we can find ourselves whittling away those finite minutes without mindful thought. We should celebrate the beauty in a child's smile. The radiant sound of saying "I love you" to that special person. The warm touch of a hand. The delicate scent of a wildflower.

Enjoy the Mused Summer Solstice 2017 Issue



Teachers Mentors and Purblind Politicians
School Reform - Maeve Maddox, Editor

Vocational education deserves more respect in public education, but it should not be viewed as "more important" than the academic skills associated with some politicians refer to as "traditional" education, as if they were opposites. In the twenty-first century, "book learning" is for everyone.




Dresden Germany – The Renaissance Reborn
Luxury Travel - Barbara Radcliffe Rogers, Editor

Augustus the Strong, who ruled Saxony in the 16th century, dreamed of making Dresden a "Venice on the Elbe" and set about creating a cultural center of lavish palaces and riverside prospects.




Asthma in Older Adults
Asthma - Sherry Vacik, Editor

Asthma is a growing problem for people 65 and over. Learn why asthma's often undiagnosed or misdiagnosed in this age group and how asthma is treated when we get older!




I am Four Movie Review
Action Movies - Dianne Walker, Editor

It's tough always being the new kid on the block, but when it's the difference between life or death, that's a different twist…especially when you're a Mogadorian. Number 4 is on the run with his guardian Henri when they wind up in, of all places, Paradise, Ohio.




Halden Prison
Crime - Vance R. Rowe, Editor

Halden prison in Norway is known as the most humane prison in the world. Read my article to find out why.




25 Benefits of Reading
Reading - Connie Mistler Davidson, Editor

If we are readers, we read books constantly. Even if we are not readers, we read, constantly. Directions, signs, pamphlets, work product, labels, textbooks, novels, and reviews all count as reading. Why should you read? What are the benefits of reading? Here are 25 of them, in no particular order.


| Google+ |
E D I T O R R E C O M M E N D E D
Investing $10K in 2014


Looking to invest in 2014? This EBook will show you how to create a simple portfolio that helps you invest successfully in any year.
Paradise in Plain Sight


Paradise in Plain Sight: Lessons from a Zen Garden by Zen Priest Karen Maezen Miller, is both memoir and Zen guide. Maezen Miller shares experiences repairing and tending a historical Japanese garden in her own backyard, guiding the reader towards direct insight. It is beautifully written, honest, and relevant to the modern seeker of any faith.
Pinnacle Car Care


The Creme De La Creme of Ultimate Car Care is In the House! Using Pinnacle´s product line is like a visit to the salon and the results--magnifique!